About Our Organization's History
Founded in 2004 and officially, the Leesport Jaycee Foundation d.b.a.: Leesport Area Historical Society, the LAHS is a 501(c)3 Non-Profit, organized under the Charter of the Leesport Jaycees.  We are proud to be one of the few local historical societies that owns it's own building. Built along Main Street in 1858, the W. Leesport School was the center of education for the town's children for over 100 years. Last used as a school in Spring of 1961, it was sold, converted for use as a warehouse, then donated to us by Wright's Knitware in 1981. A new electric service, HVAC system, plumbing, security system and a new classroom floor were installed. The restored classroom is available for groups to experience a "one room school". The other first floor room is set up as a display area for our museum collections. There is a small store with local postcards and history publications printed by Milton Blatt in his Mohrsville Print Shop for sale. Milt's vintage print shop equipment on which all these materials were printed, is also on display courtesy of his son Larry. In addition, other items of local interest are available.  One of the two rooms on the 2nd floor of the building is being organized into an archive for genealogical research with a large library of research books, family histories, as well as a digital archive of photographs, obituaries, death certificates and newspaper clippings featuring stories from the area. One of the two rooms on the second floor is currently used as a storage area.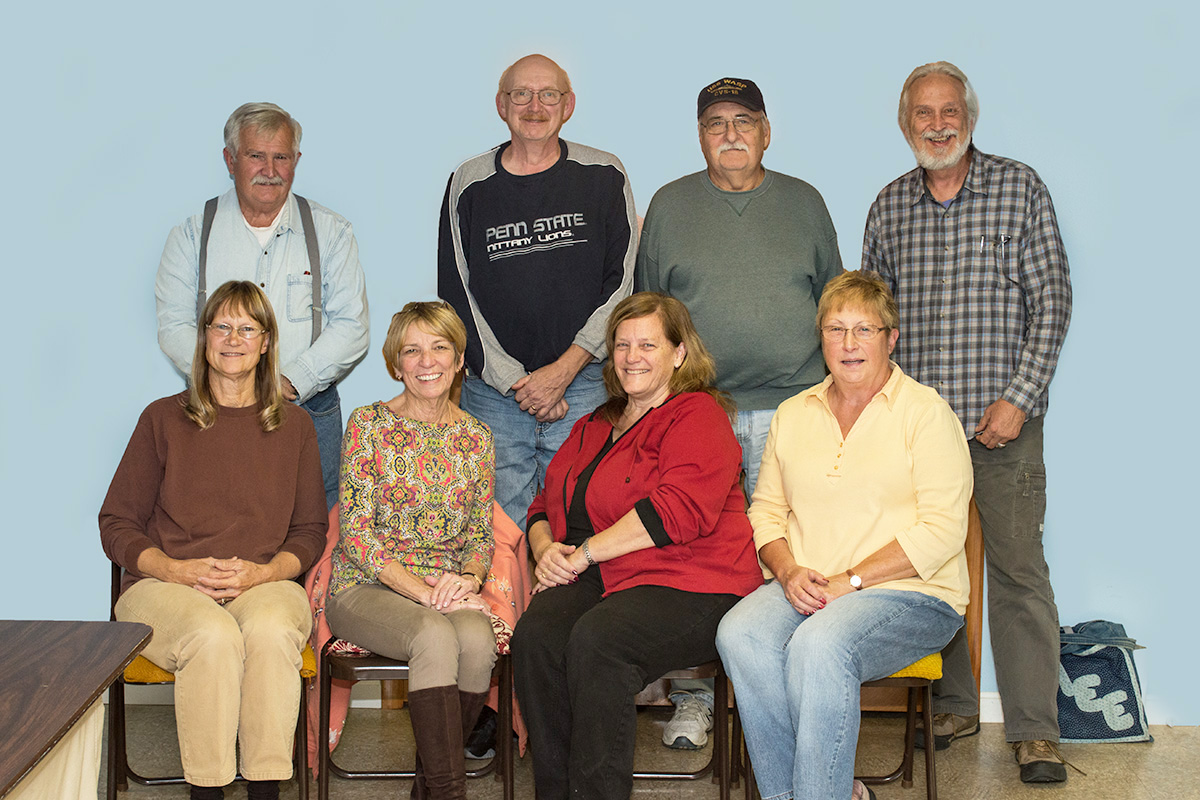 2018 LAHS Board Members pictured - Standing L-R:  John Lutz, Finance Committee Chair; Richard Strause, President; H. Dexter Mengel, Secretary; James Freeman, History Committee Chair.  Seated, L-R:  Elaine Strause, Treasurer; Ena Bieber, Public Relations Committee Chair; Nedra Koller, Vice President;  Linda Roshong, Membership Committee Chair. Not pictured: Eric Weyandt, Building Committee Chair.
The LAHS has monthly meetings open to the public, usually held the 4th Monday of the month. Most of the meetings feature guest speakers of interest to the membership. Special events hosted by the LAHS and executed by many dedicated volunteers include Leesport Community Days, Magical History Tour and the Harvest Moon Festival, as well as a number of fundraising events throughout the year. Check our Calendar.